I use affiliate links in some blog posts. If you click through and make a purchase, I earn a small commission at no extra cost to yourself. Thank you for your support.
Want some creative Lent activities for children this year?
Nope, thought you didn't.
Because, if I know you well (and I'm starting to think I might), I know that you show up to this blog exhausted by parenting and life and everything in between. You really don't need anything else to add to the mix.
My job as a blogger is to go 'Here are some amazing Lent crafts and activities I do with my perfect family in our 63-hour days', while your role in the whole interaction is to respond with 'You are flippin' kidding me. It's taken me two months, sixteen Valium and a six-week self-imposed Pinterest ban to recover from the hot mess that was Christmas, and now you're suggesting I lead my family in another supposedly 'spiritually rich' festival?'
(Followed by some expletives which I won't repeat here because, y'know, Christian blog and all that.)
Well, you're in luck, my friend. It just so happens that my imperfect family and I do not do amazing things for Lent or any other season of the year. We largely hang around in PJs, propping our eyes open with matchsticks and trying desperately to remember all the members of Paw Patrol, much as we do for the rest of the year.
Children, after all, need consistency.
So, relax, for you too are no longer bound to feel guilt-ridden or frustrated by the list that follows.
Lent with Children
These activities do not represent some kind of Über-Lent, where I subject my kiddoes to 40 days of intense fasting, generosity, Biblical reflection and crafting (Jesus did a lot of crafting, you know), to the detriment of learning to read, remembering to wee, and deciding which vegetable they won't eat this week.
Because – truly – who would be up for that?
No. We need to be honest about the realities of Lent with children. Lent is a long time, and children (mine, at least) really don't have a long attention span. My reality is: the simpler, the better.
So this list represents the best simple activities that we have tried over a number of years, OR things that trusted friends have recommended to me.
Some of them take just a minute or two. Many need no preparation. Lots are free. You get the idea.
Please, do us all a favour – least of all your own children – and pick JUST ONE. Or none. That's cool too. But maybe ONE idea will spark your imagination. Maybe ONE idea will sound like something your kids will be up for.
The point of this list, you see, is to give you enough ideas so that whatever the personality type of your child/ren, there'll be something to suit them in what follows. There are ideas for babies through to teens, outdoorsy types to crafty types, extroverts to introverts, kids who are passionate about spending time with Jesus and kids who just aren't.
The only helpful thing I need to tell you, pre-kick-off, is that they're ordered roughly chronogically, with where you would need to do them (or organise them) in Lent. In other words, they start with things you might like to do from the start of Lent, move through things which could be done anytime, and end with things best done nearer to the Big Day. (Easter, for those of you who've lost concentration by this point.)
Here goes (deep breath):
Lent Devotions
I love this devotional. You look at one Bible story per week, using a different imaginative method each day (re-telling, poem, craft, etc). If you skip days or just dip in when you feel like it, that works fine too. Read my full review here. Suggested age: 5-11s.
Wonderfully creative ways to explore Lent as a family through writing, drawing, messy play, cooking and more. Although the actual journal is no longer printed, you can download individual PDFs for £1/sheet right here. This means you can download exactly what you want, plus your download allows you to print up to 30 copies to use with friends or in a Sunday School. Suggested age: 3-11s.
Listen, you can't go far wrong with any of Victoria Beech's marvellous Godventure resources, but this one is particularly great for Lent, as six of its 12 stories are taken from the Last Supper onwards. Featuring stickers, creative prayer and Bible telling suggestions, plus ideas for under 5s and older children/adults, this would make a great once-a-week family habit throughout Lent. For different Godventure resources click here. Suggested age: 2-11s.
I was blown away by this resource when I reviewed it a few months ago (read that review here!). We're still doing it with our 9 and 7 year olds, albeit a little more patchily, but it's been one of the more successful routes into a daily Bible reading habit that we've found. It will last a whole year, but what better time to start the habit than in Lent?
But don't take my word for it. After I reviewed this devotional, a Dad messaged me to say this: "I just wanted to say thank you. We've really struggled to find anything that works to use with our son as a daily Bible reading thing, but this has really worked. He really thinks about it and comes out with the most impossible questions like 'Dad, how did evil enter the world if God made everything and He is good?' I'm so pleased that he now has a little bit of Bible reading every night."
Suggested age: 6-12s.
5. Buy a new Bible to read together
Lent is a great time to check that your child has a Bible which suits their age and stage. A very quick sum-up of my favourite Bibles… For preschoolers, you can't go wrong with The Jesus Storybook Bible. My kids have also loved My First Message.
As children become more independent with their reading, the International Children's Bible is a great unabridged Bible for kids (we bought this for Mister when he was 7, as a guide), as is the trusty old Good News Bible. If your kids like cartoons, The Action Bible is pretty cool.
And I hardly dare say this, but this year we've bitten the bullet and bought Missy My Beautiful Princess Bible. I was reluctant, but, as DesertDad says, she'll absolutely love it. And it has great reviews. If it arrives and it's terrible, I'll remove it from this blog post. If you're still reading this in 2020 onwards, then assume it's pretty good.
Suggested age: you can give a Bible to any aged child/teen, just do your research!
Disclaimer: I haven't actually used this myself, but was just thinking it looked interesting, when Desertmum reader Emma got in touch to say "It's brilliant. We've recommended it to some families in our church for whom devotional is a terrifying word (the parents have never done it and the kids cringe at the thought) and they have all really loved it."
It's a manageable 10-minute-per-day devotional, five days per week, with no stress if you miss some days. Sounds perfect.
(P.S. Author Ed Drew heads up Faith in Kids, which is well worth checking out, as well as hosting a Faith in Kids podcast which you can access here.)
Suggested age: 3s-teens! (There are differentiated questions for each age.)
This looks amazing for children and families who love to stomp around outside! It's written by a Forest Schools practitioner, and the activities are designed to help families enjoy God's creation, and connect with Him through it.
Go on a barefoot walk, have a sunrise breakfast, make a shadow clock or race some snails – this very different style of Lent 'devotional' could be just the ticket for kids who like to be active, as they discover that prayer doesn't have to be quiet and still (and dry!).
Suggested age: babes to teens – if they like the outdoors, go for it!
Take up a family habit
8. Lent prayer tree
A few years ago, undeterred by my lack of artistic skill, I bravely set out on a mission to create a Lent prayer tree for our family. You can read about it here, as long as you promise not to smirk too much at the photo.
The idea is simple: each day you pick a 'leaf', which contains a picture, photo or some words (depending on the age of the child), and stick it to the prayer tree. As Lent progresses, you'll see your tree come into blossom!
Fortunately, Hope & Ginger have saved all the non-artists among us from hideous prayer trees by producing this gorgeous variety to buy. Each day, there's a prayer suggestion and a sticker to add to the tree.
(BUT…the DIY version is a great option if you're counting the pennies this Lent!)
Suggested age: 2-teens (anyone who likes to be creative!)
9. 40acts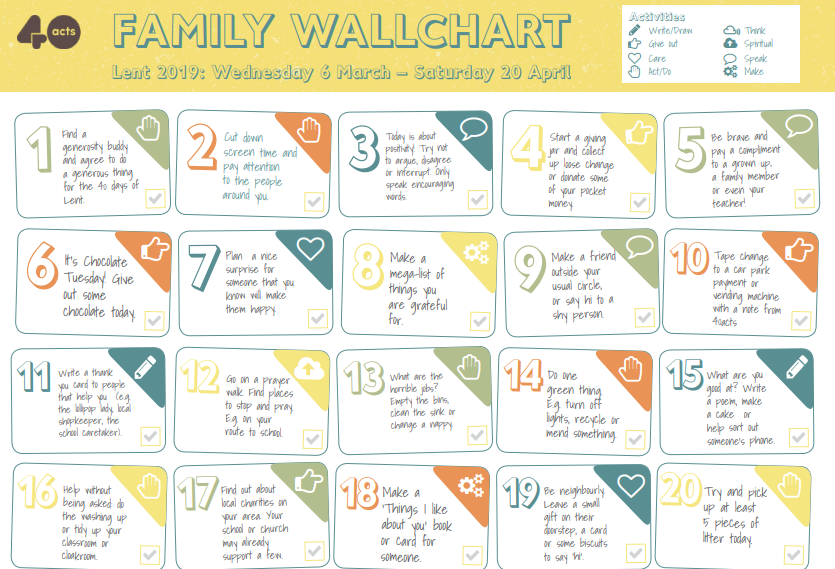 Download and print the 40acts guide for families here, for a fun and generous act to do each day of Lent. It's a great option for active, creative kids who like a challenge!
Missy did this a couple of years ago (when she was 5), and raised nearly £100 for charity by selling cookies, and managed to get our previously-grumpy postie on side by leaving him a bar of chocolate!
Suggested age: 4-teens
10. Family fast
Our family is *verynearlythere* in agreeing to do a family fast for Lent this year. I think it's a great option where you've spotted a not-so-healthy trend sweeping the entire family, and want to rein things in before they go mental.
For us, it's sweets after dinner. Perhaps not so much of a bad thing, except I've noticed that our kids now expect it, and are starting to take nice treats for granted. So I've suggested that we refrain from sweets during the week, but enjoy them on a Sunday instead. (This isn't cheating by the way – a Lenten fast does allow for 'feasting' on Sundays!)
This would work well for screentime too – remember it doesn't have to be an out-and-out fast, it could mean simply restricting viewing hours, or available channels.
Suggested age: 4-teens
This is a phenomenal, up-to-date resource for praying for different countries around the world. You can read my full review here. Why not take one country per week during Lent, committing to read about and pray for it?
Desertmum reader Katie says, "It says something about the book when my 11 year old son wants to discuss what he has read on the way to school. Each day he is choosing the country and we are both enjoying praying."
Suggested age: 4-teens
This beautiful hardback book features the stories of 52 prominent Christians from history – one for each week of the year. Why not start in Lent, perhaps setting aside a Sunday tea-time to read one of the stories? Or, if you're keen, you could do one a day, and finish shortly after Easter. It's pretty inspirational, reading about Christians who did amazing things, and I can't think of many better ways to spend Lent than getting inspired!
Suggested age: 4-9s
Available here, these DVDs are animated versions of the Jesus Storybook Bible, featuring David Suchet's narration and Jago's iconic illustrations from the book. Each story is around 5-10 minutes long – perhaps you could watch one a day, or a few every weekend? By the time Easter rolls around, you'll have watched your way through the whole Bible! Buy all four here (saving around £6), or the individual DVDs here if you want to build your collection more gradually.
Suggested age: 2-9s
Throughout the season
14. Sing 'Easter bells'
This is the easiest, quickest suggestion on my list. It goes to the tune of 'Jingle Bells' and tells young children the story of Easter in four lines. Find it here.
Suggested age: babies-7s
15. Put together a Lent basket
We love to put together an Advent basket each December, and Lent is no different. Over the years, we've amassed a healthy (ahem…slightly too healthy) collection of Easter story books and activities, so it makes sense to group them all together and get them out during Lent.
Because Lent is longer than Advent, I don't necessarily get all of our things out on Ash Wednesday – it's often a more gradual process than that, pulling out a few bits and bobs every week or so. But my kids (and I!) do enjoy the novelty of having something new, and remembering all the bits we'd forgotten we had!
Check out some of our favourite preschool Easter books here!
Ideas for Lent baskets: Easter story books, sensory Easter story-telling props (see below), Easter craft activities, Easter sticker/activity books, resurrection eggs (see below), Easter figures (see below), prayer tree stickers, chocolate eggs. Dream away…the sky's the limit!
Suggested age: babies-11s (just tailor your resources accordingly!)
If you haven't come across Baker Ross, they're well worth a look. They sell fantastically good-value kids' art and craft materials – and they always have a 'religious' section, so you can actually find Easter crafts which aren't bunny-themed! Take a look at this year's range here.
We've done lots of these in the past and they've always been brilliant. As they sell in bulk, they're a great option for church/toddler group craft activities as well. I love the look of these cross pop-out cards and wooden holy week scenes. Why not go halves with a friend?
(Tip: if you have a birthday party coming up, these guys are also great for party crafts on a huge number of different themes, as well as party bag fillers.)
Suggested age: 2-teens (depending on who likes craft!)
17. Read a Christian biography
This is a great option for older children and teens. It's so inspiring to hear the stories of people like Amy Carmichael, Nicky Cruz, Jackie Pullinger and George Müller.
7s-11s will enjoy 10 Boys who Changed the World or 10 Girls who Changed the World (don't be put off by the covers – the stories inside are ace!). Teens might enjoy reading something like John Sentamu's Faith Stories, Corrie Ten Boom's The Hiding Place or Nicky Cruz' Run Baby Run.
Suggested age: 7s-teens
18. Investigate some new Christian music
Not everyone is a reader. If your child/ren enjoy listening to music, why not spend some time finding some new Christian music to download and enjoy together? I'm not going to recommend anything here because music is so subjective, and there is so much out there to mention! But do your research: ask friends for their suggestions, scour Spotify, use YouTube – and use what your child usually listens to as a guide.
Suggested age: 9s-teens
19. Decorate an Easter tree
We have a 'tree' which gets repurposed at different times of the year: small baubles at Christmas, and eggs during Lent! You can buy one of these trees from places like Hobbycraft – or you can stick a few branches in a vase for a DIY/no-cost option.
Decorate with whatever you fancy! Small eggs, spring animals, flowers, beads, prayer requests…
Suggested age: 2s-teens
Tell the story
20. Resurrection eggs
This is a fabulous idea for telling the Easter story to small children. It takes a little while to assemble, but can last for years once you've made it, so is well worth it. Click here for how to make your resurrection eggs.
Suggested age: 2-7
21. Sensory Easter story
Another fun way to tell the Easter story – one which works particularly well in a group setting, but which you could adapt to fill a storybag at home, is to take the sensory elements and allow children to smell/taste/see/hear/touch the story.
I hope to post a more detailed description in the next few weeks, so do check back here for that. For now, let me simply list a few items you could use: bread/breadsticks, red grape juice, wood and hammer (to listen to – don't give these to your toddler!), a crown made of sandpaper, a vinegar-soaked sponge, a torch/angel figure.
Suggested age: 0-5s
This takes a little effort, but then lasts several years, so is totally worth it!
You know how we have a Nativity scene at Christmas? Well, this is the same principle. Create the main characters from the Easter story for your kids to move around and play with.
To make our set, I bought ten small wooden figures (available on Amazon and Etsy) and some paints. I then painted them in different colours to depict Jesus, two soldiers, two angels, two criminals crucified next to Jesus, and the three women who followed him to the cross. My Dad helped me make three crosses, and the tomb came from a safari toy set we had already – but you don't need to go to these lengths, even just having the figures will inspire imaginative story telling.
Suggested age: 2-7s
23. Use the Bible Society videos
Every year The Bible Society releases a fabulous Easter video and accompanying resources. The videos from previous years are free to watch here – they're short and engaging, and my kids love them!
If you sign up here, the Bible Society will keep you in the loop regarding this year's video and free resources. In previous years we've used their story trails and activities at our church's Good Friday event for children.
Suggested age: 4-11s
24. Watch The Miracle Maker
Settle down for a cozy film afternoon with this classic animated film for all ages, available cheaply second-hand on DVD or on Amazon Prime. My kids haven't quite had the staying-power for the whole thing until they've reached school age (roughly) but of course every child is different. You could always show shorter clips to younger children (maybe 15 minutes a day throughout Holy Week?).
Suggested age: 5-11s
25. Watch The Prince of Egypt
In a similar vein, this would be a good film to watch as it explains the story of the Passover, which Jesus and his disciples were celebrating shortly before he was arrested. Understanding this will help to make sense of the context for Jesus and his disciples, as well as the idea of Jesus being the Lamb of the World.
Suggested age: 5-11s
In Holy Week
You make these the day before Easter Sunday, talking through the Easter story as you go. They then go in a very low oven overnight. When you wake up on Easter Sunday morning, you'll be greeted by hollow, risen cookies (He is risen! The tomb is empty!). Recipe here.
Suggested age: 2-11s
This is my prevailing memory of childhood Good Fridays, but I'm always amazed by how many people have never come across them! You make them in a tray with soil, pebbles, moss, a flower-pot 'tomb' (or use a potato!) and anything else you can lay your hands on. There are lots of variations – just Google 'Easter gardens' for ideas!
I love to add brightly-coloured flowers to my children's gardens when they're asleep on Easter Saturday night, so that they wake up to visible signs of joy and hope on Easter morning!
Suggested age: 4-11s
A yummy alternative to a non-edible Easter garden is, of course, an edible one! Again, Google 'edible Easter gardens' for ideas – we've made them with Scotch pancakes, Oreos and mini-doughnuts, but there are so many variations!
Suggested age: 4-11s
29. Create simple Easter cards
There are loads of easy ideas on Pinterest for very young children – but my favourite is simply making a masking tape cross on a card, then inviting children to draw, paint or spread glitter over it (depending on your tolerance for mess!). When everything's dry, peel away the cross and you have a beautiful work of art!
Suggested age: 2-7s
30. Make an Easter resurrection cake
We've done this several years on the trot now, and the kids never get bored of making or eating it – I think the key is the HUGE amount of chocolate involved!
It's simply a chocolate cake with a hollow chocolate egg representing the tomb, which gets bashed open on Easter day by any kid who fancies their chances with a metal spoon – kind of like a resurrection piñata!
You can decorate how you like – we make chocolate crosses from Matchmakers stuck together with melted chocolate. Sugar flowers adorn the path, which is made from chocolate pebbles (available from a local shop – sorry, no idea where you get them from if your town hasn't been making chocolate for 400 years).
Suggested ages: 2-11s
There you go! Hope you find something from that list that your kids absolutely love, and which helps them draw closer to Christ this Lent. I'd love to know what you end up doing (and any more ideas welcome too!) so please share in the comments.
Want to read more like this for Christian families? Sign up here – never miss a blog post again! (Oh, and grab a whole host of freebies from my VIP library while you're at it…)
If you enjoyed this, why not try: