I use affiliate links in some blog posts. If you click through and make a purchase, I earn a small commission at no extra cost to yourself. Thank you for your support.
I'm not a mornings person. I'm just not.
I like my sleep and I don't get enough of it, so if you try waking me before 7 (and my kids do it often), I'm not even apologising for the grogginess of my conversation, the fuzziness of my brain, or the jelly-like consistency of my legs. You've been warned.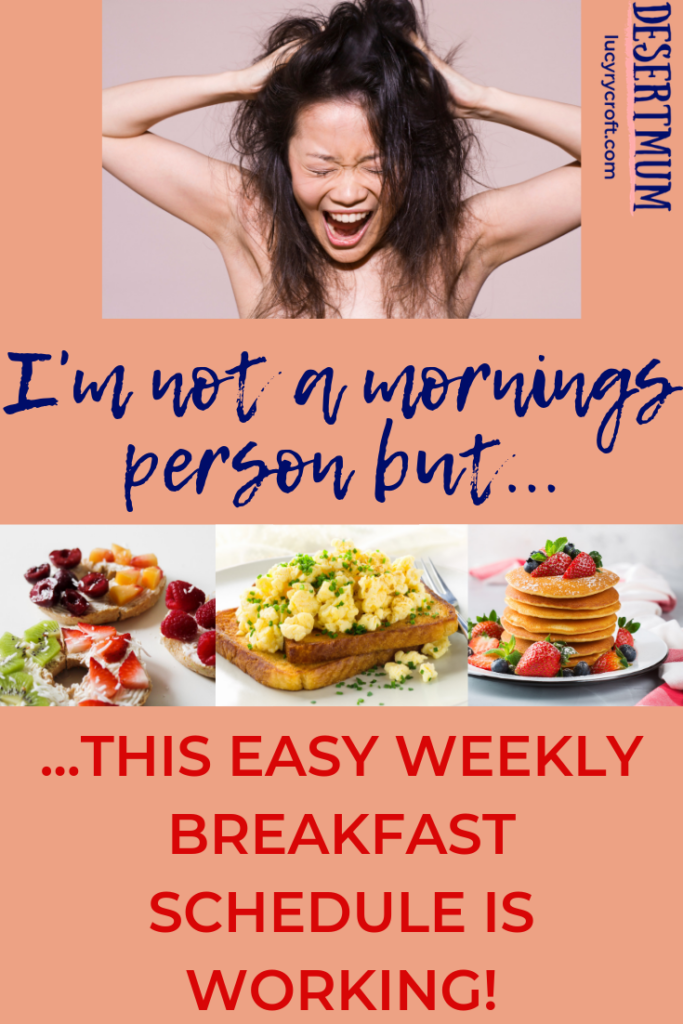 Despite this, I've realised for some months that we need to change how we do breakfast in our house. We eat far too much cereal and toast, so we need an easy breakfast menu which contains more protein and fresh fruit and veg.
One of my sons struggles with emotional regulation anyway, so I was keen to see whether reducing his sugar highs first thing in the morning would help his emotions throughout the day. Now that all four are in school, I'm keen that they start the day off well, eating food which will give them the concentration levels they need – at least till lunchtime.
And as for me – I don't find it easy to stomach sugar first thing in the morning, which basically rules out all cereals, and most toast options, as all the easy spreads seem to contain tons of sugar.
When a friend mentioned to me that her family breakfast times were less stressful when she removed the choice element, suddenly my blinkers were removed: this was totally true of our family too! We'd had such battles with which cereal they wanted, did they want it with milk, did it need to go in the microwave (multiplied by four) that sometimes we were running late for school simply because breakfast had taken fifty-eight hours.
Something obviously had to change, but given my low opinion of Mornings, it needed to be something easy and low-fuss. Getting up an hour earlier to prepare a hot breakfast? Not my bag.
What can I make for breakfast?
I realised that a simple way to mix up our breakfasts would be a weekly, easy breakfast menu – much the same as I do a meal-plan for our evening meals.
This meant I only needed to come up with seven easy breakfast ideas for kids and grown-ups – and given that we were used to having more-or-less the same breakfast every morning, I didn't think that anyone would complain with a weekly rotation.
But what to make? Over the last few months, I experimented with some great breakfast ideas from the fantastic Healthy Meal Planning Bundle. This collection of over 1000 tried-and-tested recipes from parents around the globe was on sale in January (when I bought it), and will be on sale again next week for two days only – then it's gone for good! Find out more here – I highly recommend taking a look, particularly if you're getting stuck in a meals rut, as I was.
From the Bundle, I learnt how to make Kolaches (not sure what they are? Neither was I – but, trust me, you need them in your life), Baked Oatmeal (which takes minutes the day before, then is just baked in the oven on a timer to make mornings an absolute breeze), plus different ways with eggs and different toppings for familiar breakfasts.
Easy breakfast ideas for kids
Not only did I need easy breakfast ideas, I needed easy breakfast ideas for kids. No mean feat, as you'll know if you've ever sat down to eat with a child.
Protein is basically a huge priority for kids (and all of us) – the experts say you should have it at every meal. It slows the release of sugar (which I was hoping would help with my son's emotional regulation throughout the morning) and helps with growth and repair (hello, daughter with a broken arm).
Our previous breakfasts were rubbish on this score. Cereal doesn't really contain any or much protein, and neither does bread/toast, unless you add a protein-rich topping.
Again, the Bundle came in very useful, with loads of ideas for breakfasts including eggs, nuts and seeds – three things my children all like.
Having tried out a few breakfast alternatives to see what went down well, I then jotted down seven ideas which all my kids liked enough not to turn breakfast time into a small-scale war.
I wrote down: scrambled eggs with bacon (plus, if feeling exotic, avocado) and boiled eggs with soldiers. The HMPB has a gazillion ideas for Baked Oatmeal (a fabulous cross between granola and flapjack), so I jotted that down as my kids had enjoyed a banana variety I'd made recently.
Then I included pancakes, bagels, waffles and croissants. While these may not seem like the healthiest options, I was also going for quick breakfasts (remember my hatred of mornings?). I also realised that if I was going to change our decade-old breakfast culture, my kids would need gradual weaning.
Besides, you can always have fresh fruit and/or yogurt with these options, for an instant boost of vitamins and protein to counteract the sugar!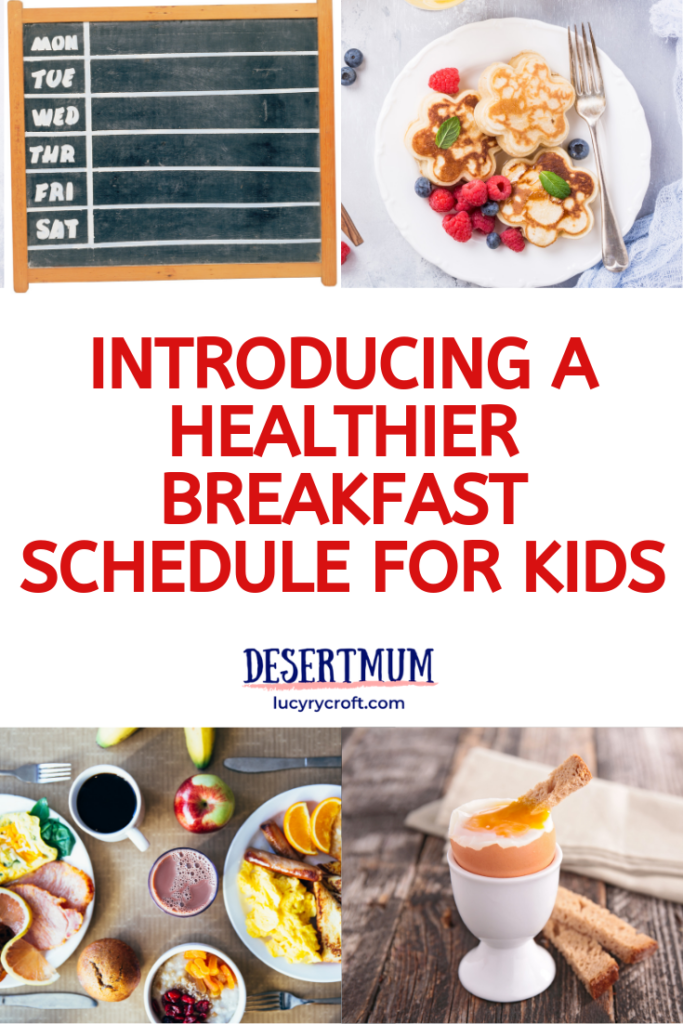 Quick breakfasts
So, armed with a collection of quick, easy, relatively healthy breakfast dishes, which were also not unpalatable to my kids, I set about constructing our easy breakfast menu:
Monday: scrambled eggs with bacon (and maybe avocado)
Tuesday: waffles with fresh fruit and Greek yogurt
Wednesday: baked oatmeal (can vary the flavour each week)
Thursday: boiled eggs with soldiers
Friday: bagels (investigate savoury, protein-rich toppings: smashed avocado, cream cheese, cold meat, smoked salmon, nut butters…)
Saturday: pancakes (with gloopy sweet toppings – it is Saturday, after all – but offering a fruit option too)
Sunday: croissants and pain au chocolat (don't judge – you haven't seen the chaos in a Vicarage on a Sunday morning)
I'll be honest and say we haven't managed a full week quite yet – but this is the beauty of having a meal plan like this: it can be adapted or changed or not used at all, and there's still the 'back-up' options of cereal and toast. But now these things are a back-up, and not the main event, and that's made all the difference. My kids are more motivated for breakfast, we have fewer fights, and we're more often able to sit down and eat at the same time.
If you're looking to improve your family's breakfasts (or lunches or dinners for that matter), the Healthy Meal Planning Bundle is an excellent place to start. It contains 12 recipe books (including such gems as Slow Cooker, Freezer Meals and One Dish Wonders), plus nine meal planning guides, 38 ready-made meal plans and five healthy eating guides.
I've contributed 17 recipes and one meal plan to the Bundle, and honestly – it has been my go-to recipe library for 2019. Check it out here! (But promise me you won't buy it until it goes on sale Sep 16th and 17th!)
What are your favourite family-friendly breakfast ideas?
If you enjoyed this, you may like: