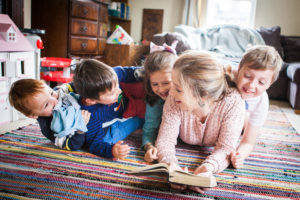 Welcome to Desertmum!
It's great to have you here, and I hope you enjoy looking around. Here's a bit about me, my crazy, messy family and this blog.
I'm married to Desert Dad (not his real name), and spend my days largely caring for our crazy kiddoes Mister (9), Missy (7), Monkey (4) and Meerkat (4) (ditto).
Prior to this I was a secondary music teacher and PGCE lecturer, which I loved – but I love more the job I do now 🙂
Do you want to read about how bonkers our life is? Well you can do that right here. Our kids arrived through birth and adoption – why not browse my adoption articles right here?
This blog is about pursuing discipleship through the haze of parenthood
Fancy tag-line. Does it actually mean anything?
Yes.
It means continuing to wrestle with aspects of our faith, even with baby brain. (And don't anyone say that this can't last for a decade.)
It means seeing God in the mundane and the everyday, allowing these seemingly-insignificant moments to inspire, teach and challenge, rather than frustrate, infuriate and madden. (Or maybe all six.)
It means thinking through our children's discipleship, such as how they should behave in church, or what resources we can use at home to help develop their faith. (And then not really doing any of it because YOU ARE DOING ALL THE THINGS and someone stole your sleep, so you just pray for your kids and hope God does the rest.)
It means engaging with parenting decisions we all face, but from a godly perspective, trying to work out how to apply the Bible's teaching to situations which are tough. And then being all like, "Lord, I CANNOT do this, and I AM NOT ABLE to do this". (And then remembering Jonah, God's grace, and a new tomorrow.)
It's basically a blog about how I mess up every day. A bit like watching Eastenders when you're depressed, this blog is meant to make you feel much more confident about your own parenting, when you see what a hash I'm making of it.
Besides blogging, I'm attempting to become a writer, and my first book should be out Autumn 2019. Why not click here to make sure you don't miss the updates on that?
(What's that I hear? Because you can't be bothered? You lazy so-and-so. Click that clicker. You even get an amazing freebie 15 Spiritual Practices Every Tired Parent Needs To Know. What's the worst that could happen? You can always unsubscribe when you realise I really am a pretty incompetent parent and Christ-follower.
What do I love? Why do you care?
Because this is why you clicked on this page, of course, so I will tell you. I love to cook, bake, write lists, host guests, talk, make music and eat. (Mainly chocolate, but curry comes a close second.)
What don't I like?
I'm not sure you're bothered, but you and I have gone too far now to go back, so here's the list. I don't like beetroot, having nothing to do, wearing black, football, the time it takes to make me look less shattered of a morning, and rain.
Thank you for being here. I do mean that.
I promise I'm a nice person and not a sociopath so, given that, would you like to head over to Facebook and follow me? Or Twitter and I may even follow you back. And don't forget to check out my Pinterest page because it took me flippin' ages to work out how to use it. Finally, Instagram. That's it – I'm done.
Fancy grabbing an amazingly incredible free e-book? Written by me? About finding quick and easy spiritual disciplines which work when you're knackered? Absolutely you do. Click right here.